Hütte 53
4700 Eupen | Belgium | Route
Tel.: +32 (0)87 59 50 00
Fax: +32 (0)87 55 57 81
Imprint
Kliemo is a statued privat held company directed by proprietorship and private equity.
Management | Directors
CEO | Christoph Emonts
CEO | Michael Klinkenberg
CEO | Matthias Klinkenberg
Chamber of commerce
310298890
Legal Notice
Please note that information on this site may contain technical inaccuracies or typographical errors.
We reserve the right to change or update the information on this site at
any given time without notice.
All works or works published on our website, such as Texts, files, compositions
and images are protected by copyright or design law. Any publication,
duplication, distribution or any other usage of content provided on this website requires the written approval of Kliemo.
Liability notice
Despite careful content control, we assume no liability for the content of external links. The content of the linked pages are the sole responsibility of their operators.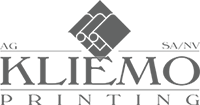 MANAGING DIRECTORS
Matthias Klinkenberg
+32 (0)87 59 50 00
Christoph Emonts
+32 (0)87 59 69 74
Michael Klinkenberg
+32 (0)87 59 69 71
PURCHASE
Michael Lenaerts
+32 (0)87 59 50 00
INQUIRIES | OFFICE
Alexandra Bosten
+32 (0)87 59 50 02
Jessica Born
+32 (0)87 59 50 00
Bénédicte Klinkenberg
+32 (0)87 59 50 04
benedicte.klinkenberg@kliemo.be
PREPRESS
Thierry Silveryser
+32 (0)87 59 50 08
PRESS | HEAD OF THE DEPARTMENT
Gerd Mathie
+32 (0)87 59 69 78